Product Description
CK360 Easy Check Remote Tester is a new Remote Key Tester for Frequency 315Mhz-868Mhz & Key Chip & Battery 3 in 1. It works for Mercedes infrared key detection and intelligent signal detection.
CK360 Easy Check Remote Key Tester CK360 Pro Diagnosis Tool for Frequency 315Mhz-868Mhz & Key Chip & Battery 3 in 1
CK360 can be used to diagnose transponder car keys.
Typical radio transponder modulation type: ASK; FSK(similar to car radio frequency AM;FM).
Typical radio wave band: 125khz(ASK); 134.5khz(FSK).
Special Infrared transponder: Mercedes-Benz.
Highlights of CK360 Remote Tester:
1.Remote control -frequency detection:
Frequency: 315MHZ, 433MHZ, 868MHZ
Distance: 0.1~ 1m
Cover ASK and FSK models
2.Key anti-theft chip detection:
46/4d /48/ 47/ 49/ 4A/ MQB A/ MQB B/ 8C/ 64/ 4C/ 13/ 12/ 11 and other common anti-theft chips
3.Mercedes infrared key detection:
Infrared key active detection
No need to press the button (except FBS4 system)
4.Intelligent signal detection:
Keyless entry, keyless start and other signal data flow
5.Remote control button battery detection:
For the ordinary remote control
CK360 Functions:
1.
Key Diagnosis :
When a car won't start, security light won't turned off or no key checking light shown, system shown anti-theft error, you can use CK360 to check whether the key can be recognized normally and make basic judgments.
Transponder Chip Type:
a.ASK modulation: Chip ID 4A, 49, 48, 47, 46, 45, 44, 42, 13, 12, 11, MQB-A/-B, VGA, 8c, 8E, 73.
b. FSK modulation: Chip ID 8A, 4D, 4C.
Chip ID classification in general: Nissan(4A, 46, 45), Ford(4D_63/83, 4C), Toyota(8A, 4D_67/68/72, 4C etc.), Hyundai(8A, 46), General Motors(46, 13), Renault(4A, 46), VW(48_MQB, 48, 44, 42), Mazda(4D, 49, 8C), KIA(8A, 46), BMW(49, 46, 73), Audi(46_VGA, 8E, 48), Mercedes(InfraRed 13), Chinese Made(46, 8A, 49 etc.), Honda(47, 46).
2. Frequency Test:
As a basic function, CK360 can be used to test remotes with ASK/FSK modulation, radio wave band 300MHZ~868MHZ,effective distance 0.1m~1.0m
3. Intelligent Detection:
Smart Detecting can be efficiently used for testing antenna damage, smart key activation damage or on board receiver damage.
CK360 can also assist for key-less entry and key-less start.
What can CK360 do?
1) Intercept the number of pulses of data signals sent from on-board antenna(including awake signal, search signal, request instruction signal);
2) Intercept signals sent from smart key when the key awaken.
4. Line Search
When pair up with 360S, Line Search function can remotely achieve: Line searching, break-point locating, mutual short circuit testing, ground short circuit testing.
Saving time and energy from the complicated and time consuming circuit diagram and multimeter.
Note: When in the Line Search menu, press both buttons to go back to the last menu.
5. Line Performance Check
Line Performance Check is mainly used to check conductivity of the lines.
CK360 would send warning signal if there is a 5% bit error rate, user can then decide if a replacement is necessary.
6.
Battery Check
Compatible with many model of batteries, only use Battery Check for Batteries <3.3v to avoid damage to the device. "-"face down "+"face up.
7. Version Info
Showing current software version, serial number for upgrade reference later.
FAQ:
Q: Why sometimes signal pulses read more sometimes less? How to analysis these readings?
A: In general, short pulses(4~20, depends on different cars) are locating, awaking instructions for awaking the smart keys, long pulses are crypto key data check, responding signal check(Dozens or a few strings). That's why we often see a few short pulses follow by one or many long pulses then short pulses, when pulling the door handle. This is a basic KPE checking process.
Q: Smart Detecting sometimes can't detect or not sensitive with high frequency signals?
A: Every car is different, some cars send out high frequency signal right after awake signal, too fast to be detected, that's why we can switch to Frequency Test function when high frequency signal can't be detected with Smart Detecting function, under Frequency Test, put smart key close to CK360, the sensitivity of detecting high frequency signal will be significantly increased, the reading will be much more obvious.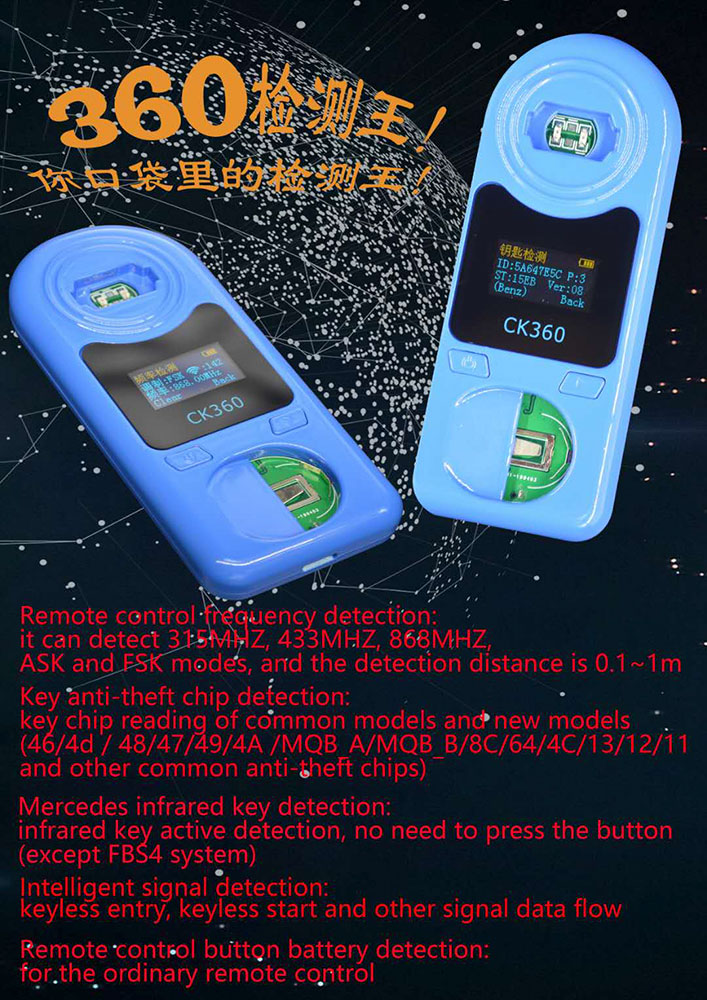 Package includes:
1pc x CK360 Easy Check Remote Key Tester
---
Protecting you from checkout to delivery.
If you are a buyer using Paypal right now, please check Paypal Buyer Protection and Paypal Returning Cost Refund regulations in advance.


---
Top 11 Reasons to Choose CarTool.co.uk

1. Professional OBD2 Diagnostic Tools Supplier
2. Market Oriented in UK and European Customers
3. 8-Years Online Store
4. Trustworthy Seller
5. Technical Support Team
6. Best Quality
7. Competitive Price
8. Fast Delivery (UK Warehouse, DHL,EMS,FedEx,TNT,UPS,AMX,YWEN)
9. Oversea Safety Exporting Certificated
10. 1-Year Guarantee and After-Sale Service for Lifetime
11. Simple & Comfortable Return & Refund Policy
Our Aim at Offering You A Personal, Easy and Convenient Shopping Experience. Welcome to Purchase!
---
What is the meaning of the QC Mark?
Note: Each device from our company has a unique QC Mark formed by digital numbers.
1. The QC mark means the product has been passed our Quality Department Test.
2. The QC mark shows that the product is supplied from our company
3. The product with the QC mark will be our guarantee.
---
Contact Information
Live Support
E-Mail:Sales@carTool.co.uk
Skype:carTool.co.uk
Whatsapp: 86-199-4763-7411

Scan the QR code, feel free to contact us on your smart phone.