Product Description
NexzCheck NC501 is a car code reader diagnosis tool with 18 functions for universal vehicles
HUMZOR
NexzCheck NC501 OBD2 & EOBD Scanner for Universal Vehicles


Highlights:
Enhanced OBD2 Diagnosis:
fully covers OBD2 diagnosis modes, read/clear codes, live data, freeze frame, with O2 sensor, Mode 6, Mode 8, MIL status
18 Functions Available:
Battery Test, Fuel Analysis, Performance Analysis, Engine Analysis
Powerful Database:
exclusively support 40,000 kinds DTC, leading the industry
Wide Vehicle Coverage:
works on almost all the gasoline cars with standard OBD2 protocols 16pin connector
One-Key I/M Readiness:
independent button for quickly enter into diagnostic function
Live Data Visualized Comparison:
greatly supports Four parameters comparison, record the live data for later review
2.8'' TFT Color Screen, Clear UI:
more visualized interface without reflection under sunlight
Maximum Chip Capacity, Fastest Diagnosis
1. Introduction
NexzCheck NC501 OBD2 Scan Tool offers what other diagnostic tools have and do not have. It can not only read and clear engine fault codes, but also include some enhanced functions which can help you with deeper inspection in order to making car repair easier. 18 functions shown clearly on the interface which are visualized and convenient for operation to meet your diagnostic demands in all aspects.
2.

Features
Supports all OBD2 functions, get one device to turn off the Check Engine Light
Works with almost all standard OBD2/EOBD protocols gasoline cars
18 functions listed out clearly instead of repeatedly entering the submenu
40,000 + database greatly supports DTC Query with clear code description
4 parameters live data comparison, and record it for later review
Retrieves generic, manufacturer specific, and pending codes
One-click I/M Readiness quick access to diagnosis
Fastest diagnosis speed with the maximum chip capacity
Multi language supported, Chinese, English, German, French, Spanish, Italian, Russian, Polish
lifetime upgrade and print data via PC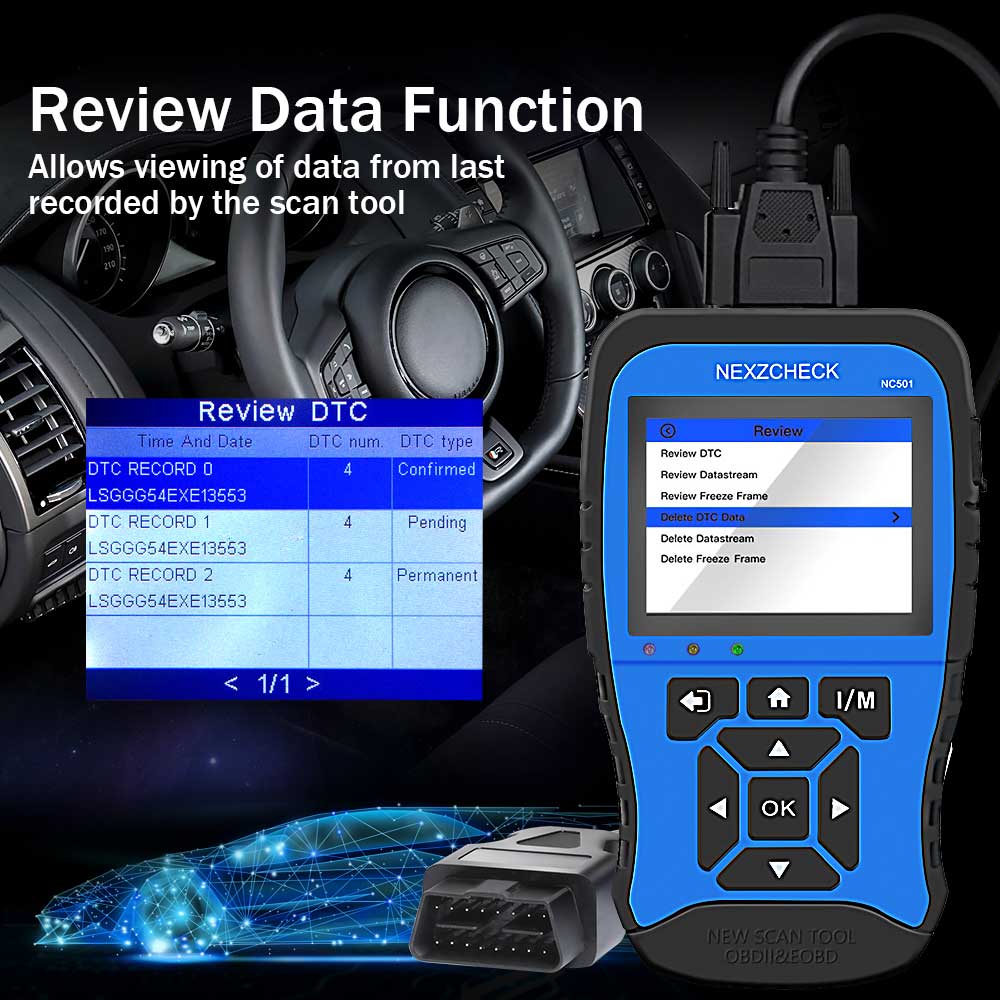 3.OBD2 Diagnosis
Do not worry about the Check Engine Light on, make car repair easier.
·Read and Clear Codes:
read and clear engine codes, generic, manufacturer specific, and pending codes
·Live Data:
read and record live sensor data, 4 parameters comparison supported
·Freeze Frame:
a snapshot of the vehicle which shows engine conditions when the MIL on
·O2 Sensor:
check the vehicle O2 sensor values
·Mode 6
: advanced test results (like misfire counts) for on-board diagnostic system monitors
·Mode 8(Component test):
allows initiating a leak test for the vehicle's EVAP system
·I/M Readiness:
check the operations of the Emission System on OBD2 compliant vehicles
·Battery Test:
show battery voltage and comment battery status
·Smog Check:
indicate whether or not the various emissions-related systems on the vehicle are operating properly and are ready for inspection and maintenance testing
·MIL Status :
MIL is essentially an emission warning light. If the light comes on, it means the OBD II system has detected an emissions-related problem
·Vehicle Info:
check the make, years, VIN Code and other detail information of your vehicle
·Fuel Analysis
: allow viewing the fuel economy of the vehicle
·Core Analysis
: allow viewing the performance of the vehicle
·Engine Analysis
: allow viewing the engine data of the vehicle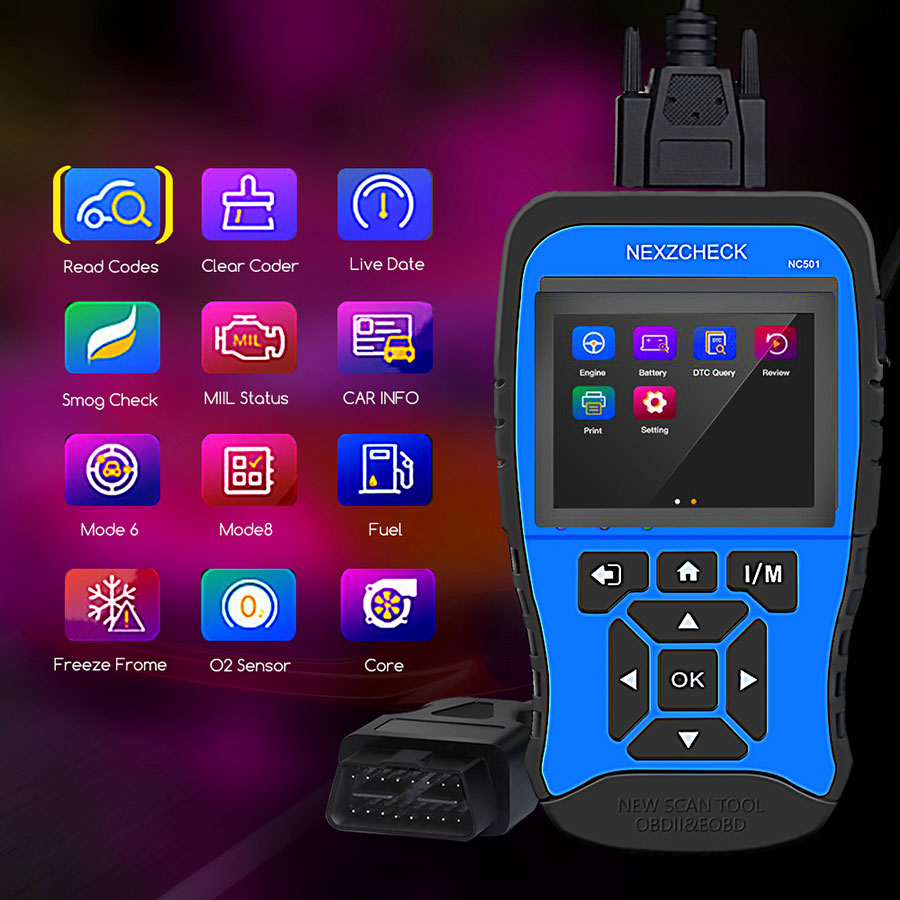 4.One-Click I/M Readiness Key
Provide quick access to emissions readiness status, complete vehicle exhaust test.
5.Live Data Display
FOUR parameters comparison, clearly show how they can affect each other and increase
diagnostic
efficiency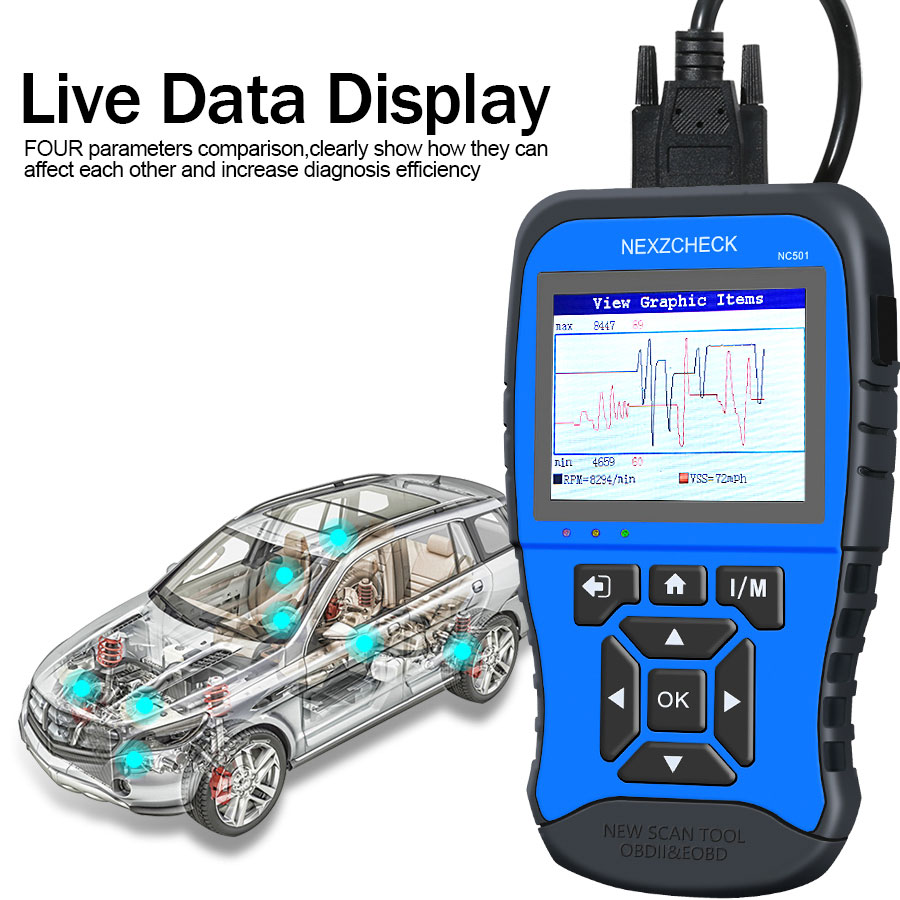 6.Review Data
Allow viewing of data from last test recorded by the scan tool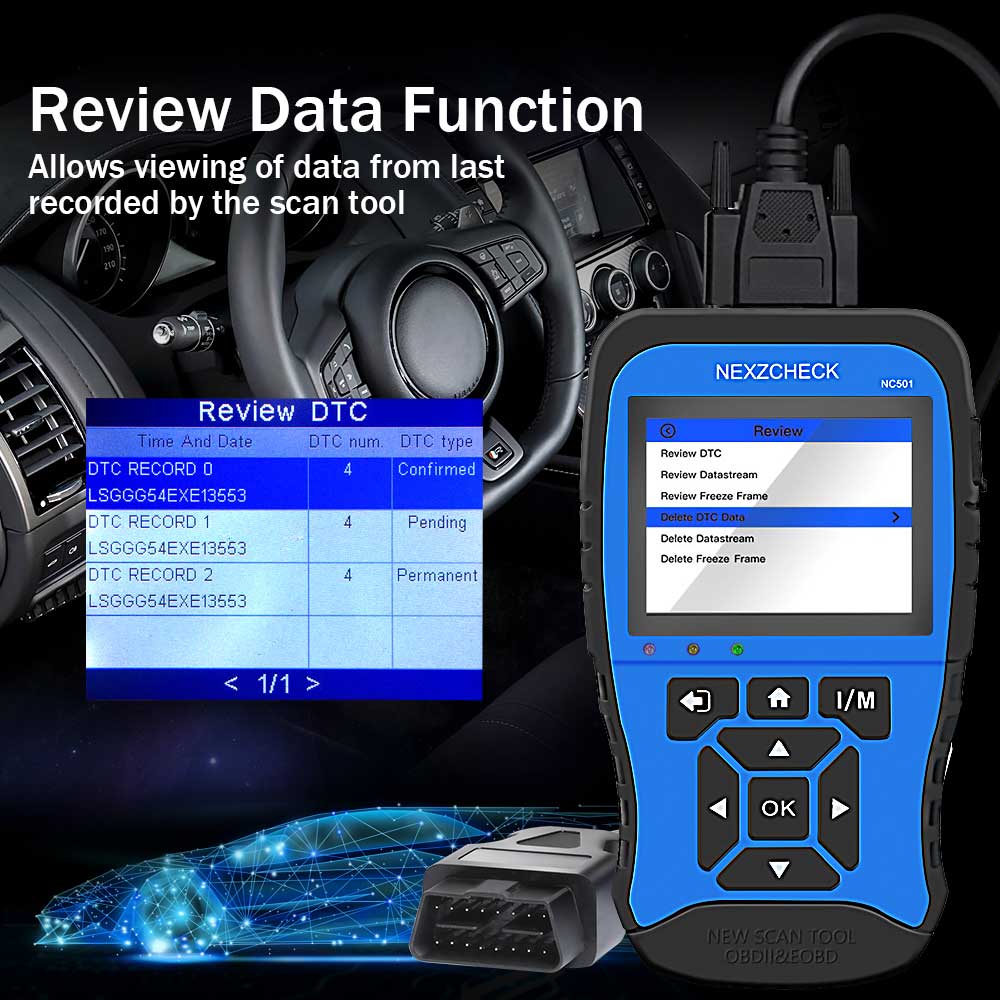 7.DTC Query
40,000 database available for DTC lookup online
8.Update & Print Data
Update to the latest version and print the stored data by PC via USB cable
9.Specifications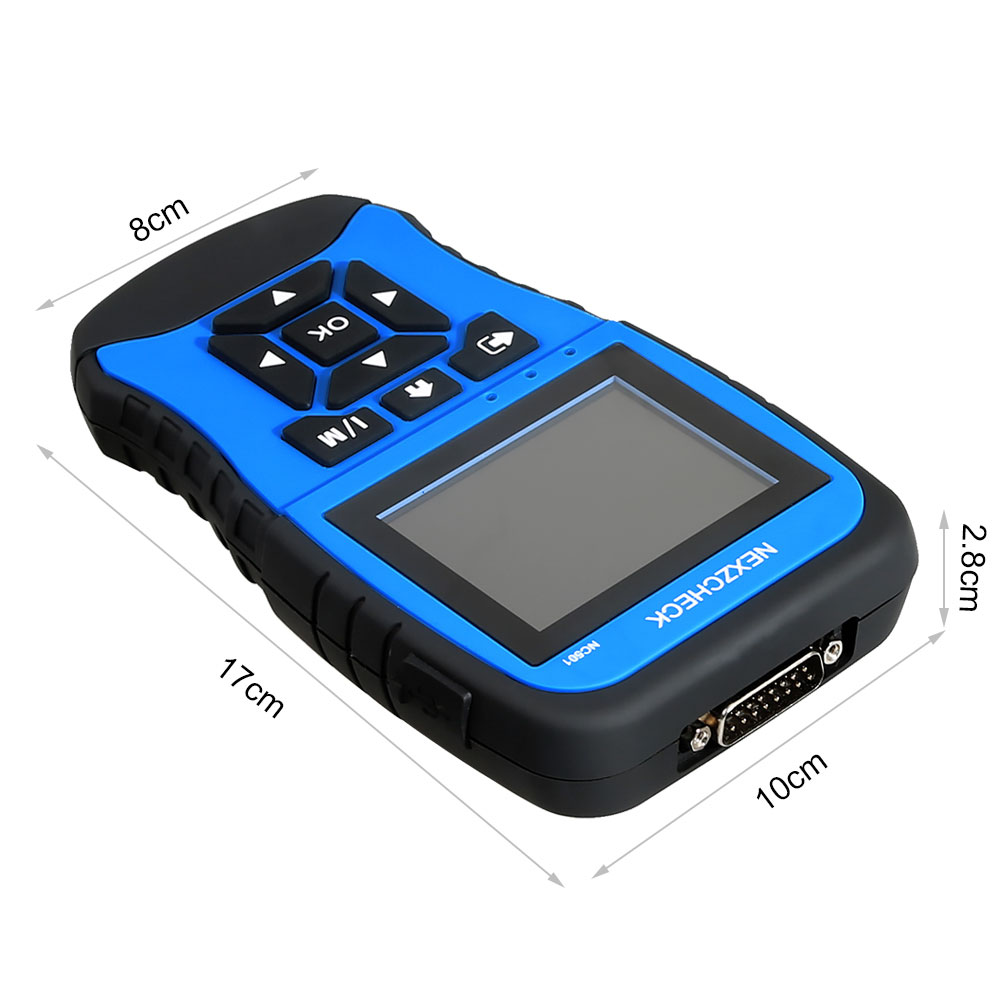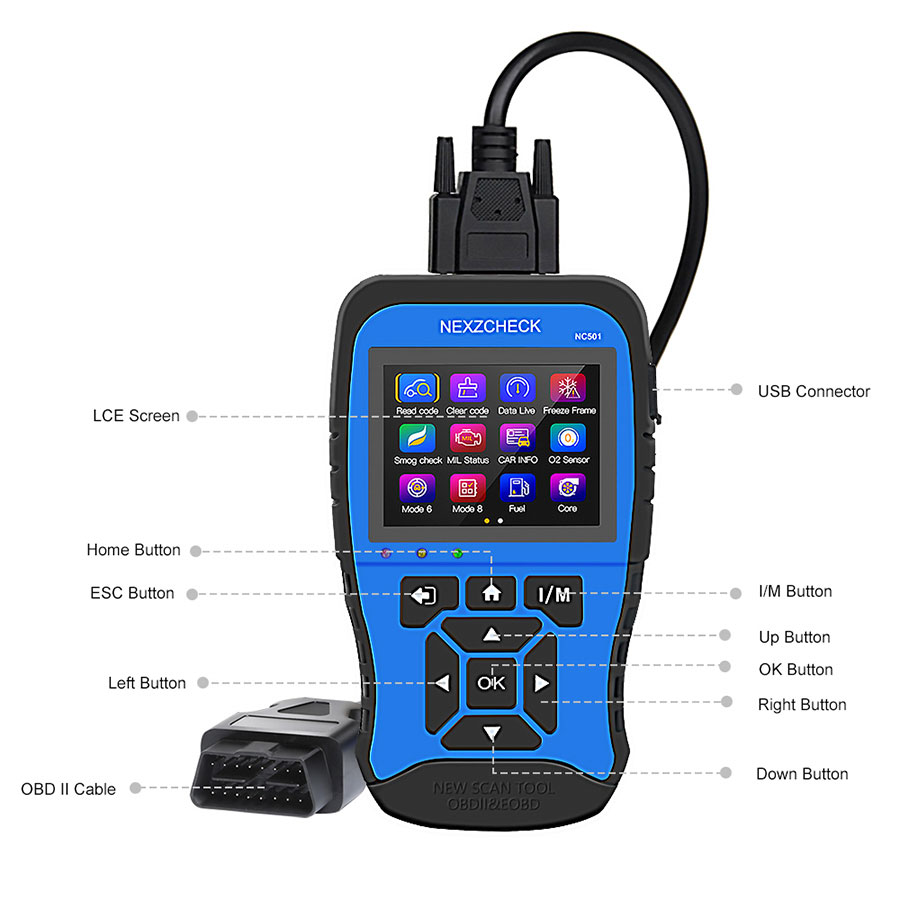 10.

Package includes:
1pc x HUMZOR NexzCheck NC501
1pc x User' s Manual
1pc x USB Caldle
1pc x OBD Cadle
---
Protecting you from checkout to delivery.
If you are a buyer using Paypal right now, please check Paypal Buyer Protection and Paypal Returning Cost Refund regulations in advance.


---
Top 11 Reasons to Choose CarTool.co.uk

1. Professional OBD2 Diagnostic Tools Supplier
2. Market Oriented in UK and European Customers
3. 8-Years Online Store
4. Trustworthy Seller
5. Technical Support Team
6. Best Quality
7. Competitive Price
8. Fast Delivery (DHL,EMS,FedEx,TNT,UPS,AMX,YWEN)
9. Oversea Safety Exporting Certificated
10. 1-Year Guarantee and After-Sale Service for Lifetime
11. Simple & Comfortable Return & Refund Policy
Our Aim at Offering You A Personal, Easy and Convenient Shopping Experience. Welcome to Purchase!
---
What is the meaning of the QC Mark?
Note: Each device from our company has a unique QC Mark formed by digital numbers.
1. The QC mark means the product has been passed our Quality Department Test.
2. The QC mark shows that the product is supplied from our company
3. The product with the QC mark will be our guarantee.
---
Fast Free Shipping and Cost-Effective

---
Contact Information

Live Support
E-Mail:Sales@carTool.co.uk
Skype:carTool.co.uk
Whatsapp: 86-199-4763-7411


carTool.co.uk QRcode:
http://www.carTool.co.uk & http://m.carTool.co.uk

Scan the QRcode, feel free to contact us on your smartphone.