Product Description
NexzDAS ND306 Lite Diagnosis Tool breaks the traditional limitations with the modality of VCI+APP. It is compatible with Android phone, which achieves convenient and efficient diagnosis. It maximumlly offer the perfect diagnostic solution for shops and technicians who demand unrivalled smart technology and smart repairs.
HUMZOR NexzDAS ND306 Lite Full-System Diagnostic Tool +Oil Reset+TPMS Reset+Injector Adjust+EPB+SRS+ABS Bleeding+Battery Change+Throttle Sensor

Top 4 reasons to get Humor MexzDAZ lite:
1. Wide vehicle coverage: NexzDAS Lite can work for passenger cars incl. more than 90 American, European, Asian makes and models.
2.Multi Powerful functions: NexzDAS Lite can do full system OBD2 diagnosis and 9 special resetting functions like Oil Reset ,TPMS reset, Injector Adjust, EPB, SRS, ABS Bleeding, Battery Change, Throttle Sensor, and so on
3. One-click update online
4. Auxiliary Functions: All-round assistance to offer more user-friendly experience, continuously listen to your voice and turn it into product-upgrade
HUMZOR NexzDAS Lite Diagnostic Tool Highlights:

1. High cost-effective configuration with VCI+App
2. Bluetooth 4.2 connection, Android phone available
3. Multi-model coverage for free download, Asia, Europe, America, etc. included
4. Full-system diagnosis, quick scan for all the electronic systems of the car
5. Professional diagnostic report offers you detailed inspection result for each DTC
6. Customized special function provided for extra demand , such as Oil reset, ABS, TPMS, EPB, etc.
7. Powerful database supports online DTC inquiry
8. Intelligent operation, one key record/ feedback/ update within App
9. Language: English, Chinese
10. Update: Free update online for 1 year. Then the next update is 50 usd per year

Vehicle Coverage(Download 170+ models for free in App Store)
American: GM, GMC, CHEVROLET, BUICK, HUMMER, SATURN, PONTIAC, CADILLAC, OLDSMOBILE, ASIAGM, FORD(EUROPE), FORD(AMERICA), Ford, Mercury, Lincoln, FORD(AUSTRALIA), MAZDA, CHRYSLER, JEEP, SCION,ACURA

European: VW, CVVW, AUDI, SEAT, SKODA, Bently, BUGATTI, LAMBORGHINI, BENZ, Smart, MAYBACH, BWM, MINI, ROLLS ROYCE, PORSCHE, PEUGEOT, CITROEN, OPEL, VAUXHALL, Renault, Dacia, Renault Samsong, JAGUAR, LANDROVER, SAAB, VOLVO, FIAT, LANCIA, ALFA ROMEO, ABARTH, ASTON MARTIN, FERRARI, MASERATI

Asian:TOYOTA, LEXUS, HONDA, Nissan, Infiniti, MITSUBISHI, SUBARU, SUZUKI, ISUZU, FUSO, HYUNDAI, KIA, DAEWOO, SSANGYONG, PERODUA, PROTON, TATA, Mahindra, Maruti
Chinese:
BYD, CHANGAN, CHANGHE, FOTON, GWM, HBSH, HUACHEN, WULING, CHERY, EMGRAND, ENGLON, GEELY, GLEAGLE, LIFAN, YUAN, RIICH, ZOTYE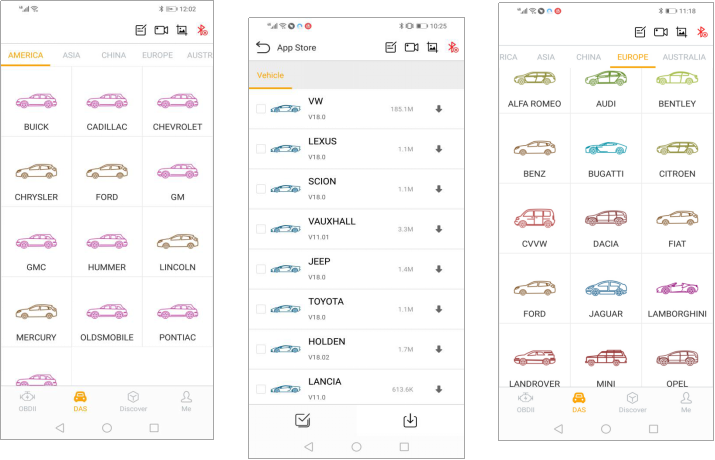 Function Display
Full-system Diagnosis:
Select vehicle model --- Select vehicle type --- Select Year --- Auto Scan --- Full-system Scan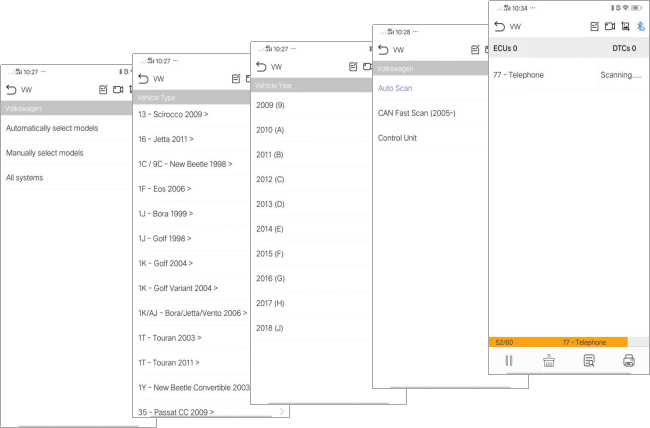 Complete OBD2 Diagnosis
Read Code, Clear Code, Live Data, Freeze Frame, Smog Check, O2 Sensor, Mode 6, MIL Status, Vehicle Information, Battery Test
Resetting
Oil Reset: Baic, BYD, Chery, FAW CAR, Greatwall, JAC, Luxgen, Soueast, Rover, ACURA, AUDI, BENZ, BESTURN, BENTLEY, BUICK, BUGATTI, BMW, CADILLAC, CHRYSLER, CITROEN, DACIA, DAEWOO, DODGE, FERRARI, FIAT, FORD, GM, HOLDEN, HONDA, HUMMER, HYUNDAI, INFINITI, ISUZU, JAGUAR, JEEP, KIA, LANDROVER, LAMBORGHINI, LEXUS, LINCOLN, MASERATI, MERCURY, MINI, MITSUBISHI, NISSAN, OLDSMOBILE, OPEL, PEUGEOT, PORSCHE, PONTIAC, RENAULT, ROLLS-ROYCE, ROMEO, ROVER, SAAB, SATURN, SCION, SEAT, SKODA, SMART, SUBARU, SUZUKI, TOYOTA, VAUXHALL, VOLVO, VW
TPMS: AUDI, BENZ, BUICK, BMW, CADILLAC, CHRYSLER, DODGE, FORD, GM, GMC, HONDA, HUMMER, HYUNDAI, INFINITI, JAGUAR, JEEP, KIA, LANDROVER, LEXUS, LINCOLN, MERCURY,MITSUBISHI,
NISSAN, PORSCHE, PONTIAC, SATURN, SCION, SGM, SUBARU, TOYOTA, VW
Injector Adjust: CITROEN,FIAT,HYUNDAI,JAGUAR,KIA,LANDROVER,MITSUBISHI,OPEL,SUBARU,VAUXHALL
EPB: BMW, CITROEN, DAEWOO, GM, HONDA, HYUNDAI, JAGUAR, KIA, LANDROVER, OPEL, PEUGEOT, RENAULT, SAAB, SUBARU, TOYOTA, VAUXHALL, VOLVO, VW
DPF: BMW, CITROEN, DAEWOO, JAGUAR, LANDROVER, OPEL, PEUGEOT, SUBARU, VAUXHALL
Battery Change: FORD, JAGUAR, LANDROVER, LEXUS, TOYOTA, VOLVO
ABS Bleeding: DAEWOO, JAGUAR, LANDROVER, OPEL, RENAULT
SAS: BAIC, BAOJUN, BYD, ZOTYE, Soueast, Haima, DF_FENG_XING, DF_FENG_SHEN,DF_XIAO_KANG, Chery, ROEWE, TRUMPCHE, Geely Emgrand, Geely Englon, Geely Gleagle, JAC, JMC, LIFAN, Greatwall, DAEWOO, SsangYong
Throttle Sensor: Baojun, BYD, ACURA, BMW, CHRYSLER, DAEWOO, BUICK, Cadillac, Chevrolet, Holden, Pontiac, Saturn, HONDA, JEEP, KIA, NISSAN, TOYOTA,VOLVO
Auxiliary Functions
One-Key DTC Query: nearly 40,000 database available for you to search code definition and description.
One-Key Data Manage: check the stored information at anytime and anywhere, both images and videos.
One-Key Car Inquire: search the car information online. Input the VIN or scan it directly.
One-Key Feedback: Multi methods to contact us and feedback your questions by clicking the button at the top right corner.
One-Key Update:
No PC, no SD card. Get new version upgrade information in time and choose to update it at fast speed within App.
Package includes:
1pc x HUMZOR NexzDAS Lite Main Unit
1pc x USB Cable
1pc x Password
1pc x User Manual

---
Protecting you from checkout to delivery.
If you are a buyer using Paypal right now, please check Paypal Buyer Protection and Paypal Returning Cost Refund regulations in advance.


---
Top 11 Reasons to Choose CarTool.co.uk

1. Professional OBD2 Diagnostic Tools Supplier
2. Market Oriented in UK and European Customers
3. 8-Years Online Store
4. Trustworthy Seller
5. Technical Support Team
6. Best Quality
7. Competitive Price
8. Fast Delivery (DHL,EMS,FedEx,TNT,UPS,AMX,YWEN)
9. Oversea Safety Exporting Certificated
10. 1-Year Guarantee and After-Sale Service for Lifetime
11. Simple & Comfortable Return & Refund Policy
Our Aim at Offering You A Personal, Easy and Convenient Shopping Experience. Welcome to Purchase!
---
What is the meaning of the QC Mark?
Note: Each device from our company has a unique QC Mark formed by digital numbers.
1. The QC mark means the product has been passed our Quality Department Test.
2. The QC mark shows that the product is supplied from our company
3. The product with the QC mark will be our guarantee.
---
Fast Free Shipping and Cost-Effective

---
Contact Information

Live Support
E-Mail:Sales@carTool.co.uk
Skype:carTool.co.uk
Whatsapp: 86-199-4763-7411


carTool.co.uk QRcode:
http://www.carTool.co.uk & http://m.carTool.co.uk

Scan the QRcode, feel free to contact us on your smartphone.