Product Description
OBD I CAN code reader supports all 10 modes of the OBD II protocol,
uses next-generation OBD II technology to quickly diagnose engine problems using vehicles on board
computer Easy-to-understand troubleshooting code tips help get to the cause of trouble codes faster, saving time and money
KZYEE KC501 CAN SCAN TOOL ABS+SRS Testing
OBD I CAN code reader supports all 10 modes of the OBD II protocol,
uses next-generation OBD II technology to quickly diagnose engine problems using vehicles onboard
computer Easy-to-understand troubleshooting code tips help get to the cause of trouble codes faster, saving time and money

Product features and characteristics:

Graphs data for 1996 and newer vehicles
Displays monitor and I /M readiness status(emissions)and live O2 sensor test data
Retrieves generic (PO, P2, P3 and UO), manufacturer specific(P1, P3 and U1)codes and pending codes
Provides Code/Cause/Solution tips for easier troubleshooting
Reads, stores and playbacks live 02 sensor data
Retrieves vehicle information (VIN, CIN and CVN
Views freeze frame data
Trilingual menu and DTC definitions- English, French, Spanish
Unit can be USB(cable included)flash updated with a standard Windows PC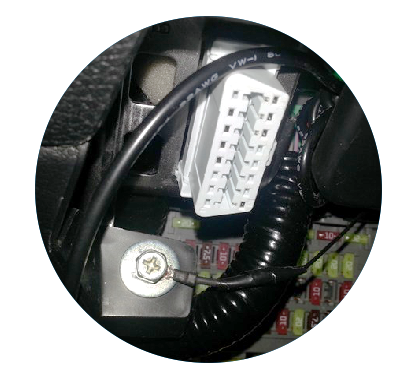 CODE READERS
FEATURES & FUNCTIONS
KC10
KC201
KC301
KC401
KC501
Compatible with ALL 1996& newer vehicles (OBD ll and CAN)
√
√
√
√
√
Retrieve Manufacturer Specific & Pending Codes
√
√
√
√
√
Reads, Displays, Clears Diagnostic Trouble Codes(DTCs)
√
√
√
√
√
Reads & Displays Vehicle ldentification Number(VIN)
√
√
√
√
√
Reads & Displays Inspection/Maintenance Monitor Status(I/M)
√
√
√
√
√
Multilingual menu and DTC definitions
English
French
Spanish
Dutch
German
English
French
Spanish
English
French
Spanish
English
French
Spanish
English
French
Spanish
Live Data-Displays complete OBD-ll vehicle data stream
√
√
√
√
√
Live Data-Records and Plays back complete OBD-ll vehicle data stream
√
√
√
√
DTC Cause/Tips
√
√
√
√
Data Graphing
√
√
√
√
Internet Updatable
√
√
√
√
Print via PC
√
√
√
√
I/M Readiness Key
√
√
√
√
Color Screen
√
√
√
√
ABS Coverage
√
√
SRS Coverage
√
Enhanced OBD-lI Mode 6
√
√
√
KZYEE KC501 Specifications:

Display Screen :TFT Color (320 x 240)
Operating Temperature ;32°F to 140°F
Storage Temperature :-4°F to 158°F
Power 8V to 18V power provided by vehicle battery
Package includes:
1pc x KC501 CAN SCAN TOOL
1pc x OBDII Cable
1pc x USB Cable
1pc x Users Manual
---
Protecting you from checkout to delivery.
If you are a buyer using Paypal right now, please check Paypal Buyer Protection and Paypal Returning Cost Refund regulations in advance.


---
Top 11 Reasons to Choose CarTool.co.uk

1. Professional OBD2 Diagnostic Tools Supplier
2. Market Oriented in UK and European Customers
3. 6-Years Online Store
4. Trustworthy Seller
5. Technical Support Team
6. Best Quality
7. Competitive Price
8. Fast Delivery (DHL,EMS,FedEx,TNT,UPS,AMX,YWEN)
9. Oversea Safety Exporting Certificated
10. 1-Year Guarantee and After-Sale Service for Lifetime
11. Simple & Comfortable Return & Refund Policy
Our Aim at Offering You A Personal, Easy and Convenient Shopping Experience. Welcome to Purchase!
---
What is the meaning of the QC Mark?
Note: Each device from our company has a unique QC Mark formed by digital numbers.
1. The QC mark means the product has been passed our Quality Department Test.
2. The QC mark shows that the product is supplied from our company
3. The product with the QC mark will be our guarantee.
---
Fast Free Shipping and Cost-Effective

Lonsdor K518 K518ISE Key Programmer


---
Contact Information


Live Support

E-Mail:Sales@carTool.co.uk

Skype:carTool.co.uk
Whatsapp: +86-199-4763-7411 (Joanna)


carTool.co.uk QRcode:
http://www.carTool.co.uk & http://m.carTool.co.uk

Scan the QRcode, feel free to contact us on your smartphone.