Product Description
Ford F021 Clamp for 2M2 Magic Tank Automatic Car Key Cutting Machine
TANK 2-in-1 Automatic Key Cutting Machine Automatic Rotating Clamp for Ford(Fo-21) & Jaguar(Tibbe)
Highlights:
Global patent technology
Rotate automatically while 12 & 16 sides cut for Fo21 & Tibbe Rotated Key
Set Built-in-stacode
Standard Clamp for Laser Key, Standard Key, Cruciform Key, Dimple Key, Sided Key, Tracked Key (Extra more Hu162-T,Toy2,Hu66)
Key Blank Installation:
1. Loosen the screw.
2. Remove the standard fixture.
3. Remove the probe.
4. Install the FO21/TEB1 fixture.
5. Tighten the screw.
6. Insert New key blank.
7. Align the red line of the axis to the red line on the right.
8. Turn the key blank off the horizontal position.
9. Tighten the nut by hand at first.
10. Use the fixed block to locate the key blank.
11. Pull the key blank towards the arrow.
12. Rotate the nut and tighten it.
13. Use the red spanner to fix the axis;use the blue spanner to tighten the nut.
14. Move the fixed block away.
Key blank installation is finished, the last step is to connect the power line and click confirm.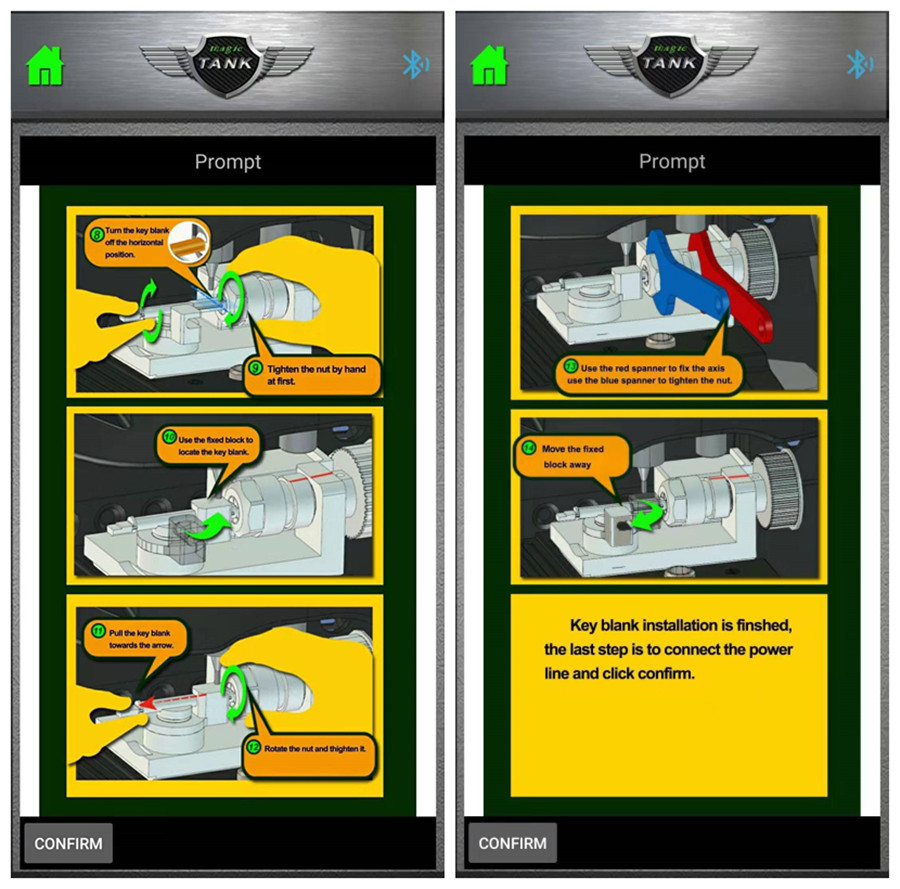 Package includes:
1PC x TANK 2-in-1 Automatic Key Cutting Machine Automatic Rotating Clamp
---
Protecting you from checkout to delivery.
If you are a buyer using Paypal right now, please check Paypal Buyer Protection and Paypal Returning Cost Refund regulations in advance.


---
Top 11 Reasons to Choose CarTool.co.uk

1. Professional OBD2 Diagnostic Tools Supplier
2. Market Oriented in UK and European Customers
3. 8-Years Online Store
4. Trustworthy Seller
5. Technical Support Team
6. Best Quality
7. Competitive Price
8. Fast Delivery (UK Warehouse, DHL,EMS,FedEx,TNT,UPS,AMX,YWEN)
9. Oversea Safety Exporting Certificated
10. 1-Year Guarantee and After-Sale Service for Lifetime
11. Simple & Comfortable Return & Refund Policy
Our Aim at Offering You A Personal, Easy and Convenient Shopping Experience. Welcome to Purchase!
---
What is the meaning of the QC Mark?
Note: Each device from our company has a unique QC Mark formed by digital numbers.
1. The QC mark means the product has been passed our Quality Department Test.
2. The QC mark shows that the product is supplied from our company
3. The product with the QC mark will be our guarantee.
---
Contact Information
Live Support
E-Mail:Sales@carTool.co.uk
Skype:carTool.co.uk
Whatsapp: 86-199-4763-7411

Scan the QR code, feel free to contact us on your smart phone.