Product Description
HUMZOR NEXZDAS ND406 Lite is designed for immo key programming for universal vehicles.
HUMZOR

NEXZDAS

ND406 Auto Key Programmer

HUMZOR
NEXZDAS

ND406 Highlights:
VCI+APP (Android/iOS) portable design with the capabilities of an expensive tablet tool.
Economical, convenient, intelligent and easy operation.
Professional Immobilizer, add new key, erase keys, key programming...
Free download for wide vehicle models in our APP Store of the software , including American, European, Asian...
Full-system quick scan, deep diagnosis on all the electronic systems of the car.
Powerfully supports online DTC Query, VIN Query, Data Manage, etc.
One-key update within APP, no PC, no SD card needed.
Perfect after-sales service with all-round help, feedback to us and get Remote Assistance online.
Free shipping, 90-days risk free return policy.
What is NexzDAS ND406?
Turn Your Smartphone Into Good Helper for Locksmiths and Mechanics
NexzDAS ND406 Auto Key Programmer is divided into three different versions to greatly meets the demands of locksmiths, technicians for key programming, reset service and vehicle diagnosis,etc. The portable device VCI plus App offers you intelligent, convenient and high cost-effective using experience with wide vehicle coverage, up to the new models.
(1)NexzDAS ND406 Lite (IMMO) SK272
(2)NexzDAS ND406 Standard (IMMO+Reset ) SK272-B
(3)NexzDAS ND406 Pro (IMMO+Reset+ DAS) SK272-C
NOTE: For NexzDAS ND406 Lite and Standard versions, Android and iOS are supported while for NexzDAS Pro, only Android is available now.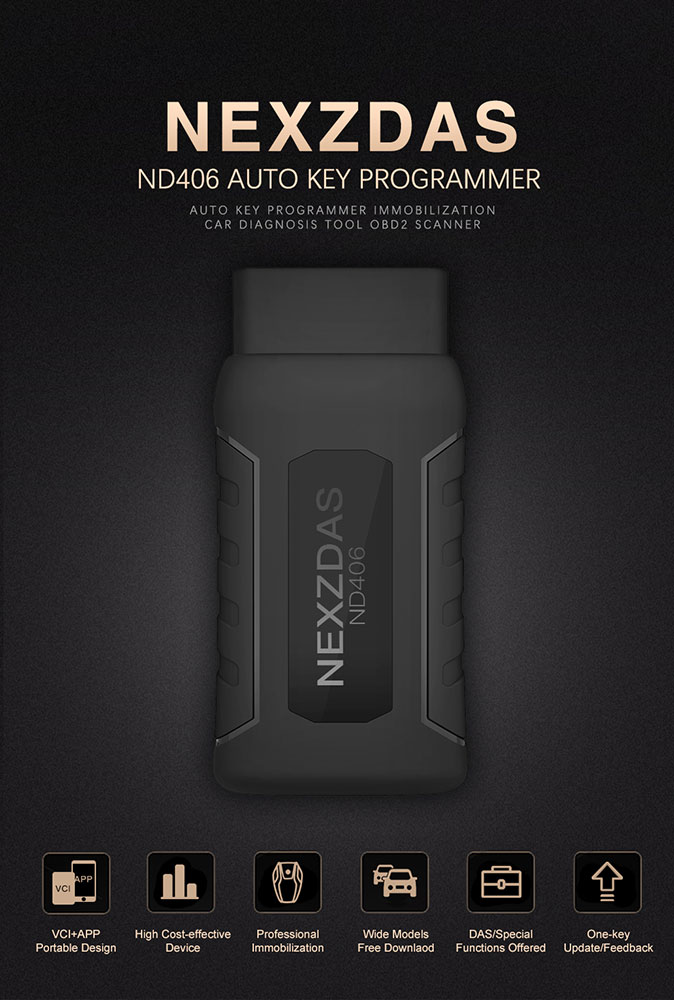 Function:



1.IMMO Function
Immo Code Reading: Can read the Immo code of specific car models.
Key programming: Greatly supports key matching.
Add car key: Add and match new key to the car.
Erase car key: Delete the key that does not need.
Key information reading: Read the information of the key, quantity,frequency etc.
All
keys
lost: Support most cars all
keys
lost via direct OBD matching.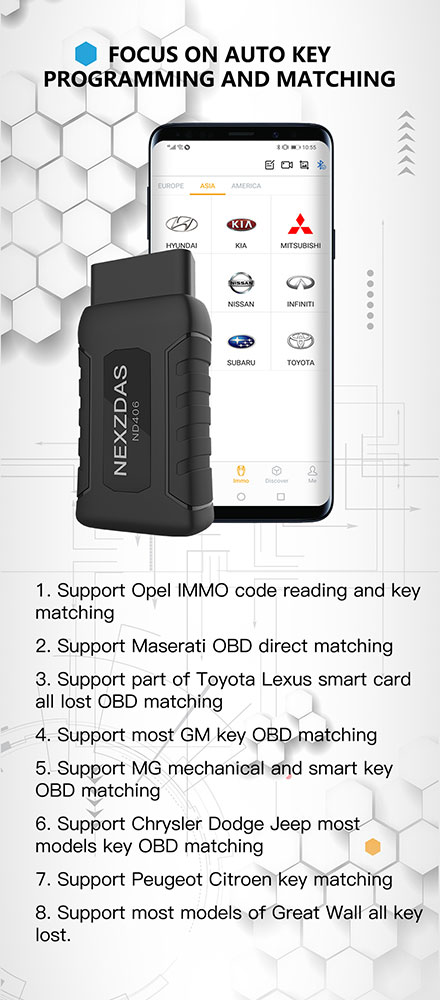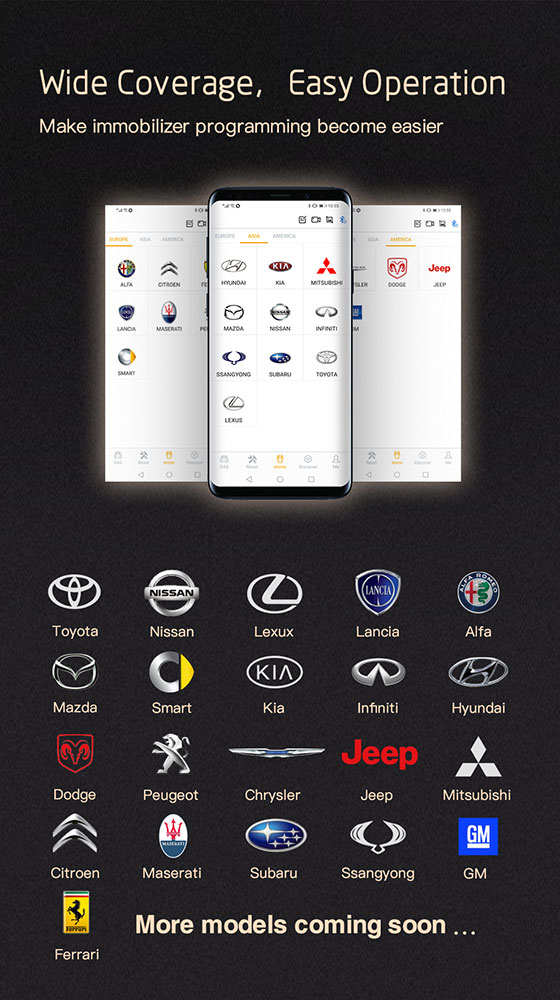 IMMO Function Vehicle Coverage:
Chrysler, Toyota, Lexux, Hyundai, Kia, Ssangyong, Smart, Alfa, Lancia, Dodge, Ferrari, Maserati, Jeep, Nissan, Infiniti, Subaru, Mazda, Mitsubishi, Citroen,Peugeot, GM
2.Special Function (Reset Service)
>Oil Reset: Provides quickly access to read sensor data, complete oil light reset, maintenance mileage performing and service intervals reset, etc.
>ABS:To cycle the system solenoid valves and run the pump in order to purge the air from the secondary circuits.
>SAS: Helps clear the fault steering angle sensor memories and plays a part in the calibration.
>EPB: When replace brake pad or motor, it is important to reset it.
>DPF:
Works well
for diesel particulate filter system with DPF generation, DPF component replacement teach-in and DPF teach-in after replacing the engine control unit.
>TPMS: Inputs TPMS sensor replacement IDs and activate TPMS sensors.

Special Function Vehicle List:
| | |
| --- | --- |
| Oil Reset | Baic, BYD, Chery, FAW CAR, Greatwall, JAC, Luxgen, Soueast, Rover, ACURA, AUDI, BENZ, BESTURN, BENTLEY, BUICK, BUGATTI, BMW, CADILLAC, CHRYSLER, CITROEN, DACIA, DAEWOO, DODGE, FERRARI, FIAT, FORD, GM, HOLDEN, HONDA, HUMMER, HYUNDAI, INFINITI, ISUZU, JAGUAR, JEEP, KIA, LANDROVER, LAMBORGHINI, LEXUS, LINCOLN, MASERATI, MERCURY, MINI, MITSUBISHI, NISSAN, OLDSMOBILE, OPEL, PEUGEOT, PORSCHE, PONTIAC, RENAULT, ROLLS-ROYCE, ROMEO, ROVER, SAAB, SATURN, SCION, SEAT, SKODA, SMART, SUBARU, SUZUKI, TOYOTA, VAUXHALL, VOLVO, VW |
| TPMS | AUDI, BENZ, BUICK, BMW, CADILLAC, CHRYSLER, DODGE, FORD, GM, GMC, HONDA, HUMMER, HYUNDAI, INFINITI, JAGUAR, JEEP, KIA, LANDROVER, LEXUS, LINCOLN, MERCURY,MITSUBISHI, NISSAN, PORSCHE, PONTIAC, SATURN, SCION, SGM, SUBARU, TOYOTA, VW |
| Injector Adjust | CITROEN, FIAT, HYUNDAI, JAGUAR, KIA, LANDROVER, MITSUBISHI, OPEL, SUBARU, VAUXHALL |
| EPB | BMW, CITROEN, DAEWOO, GM, HONDA, HYUNDAI, JAGUAR, KIA, LANDROVER, OPEL, PEUGEOT, RENAULT, SAAB, SUBARU, TOYOTA, VAUXHALL, VOLVO, VW |
| DPF | BMW, CITROEN, DAEWOO, JAGUAR, LANDROVER, OPEL, PEUGEOT, SUBARU, VAUXHALL |
| Battery Change | FORD, JAGUAR, LANDROVER, LEXUS, TOYOTA, VOLVO |
| SAS | BAIC, BAOJUN, BYD, ZOTYE, Soueast, Haima, DF_FENG_XING, DF_FENG_SHEN,DF_XIAO_KANG, Chery, ROEWE, TRUMPCHE, Geely Emgrand, Geely Englon, Geely Gleagle, JAC, JMC, LIFAN, Greatwall, DAEWOO, SsangYong |
| Throttle Sensor | Baojun, BYD, ACURA, BMW, CHRYSLER, DAEWOO, BUICK, Cadillac, Chevrolet, Holden, Pontiac, Saturn, HONDA, JEEP, KIA, NISSAN, TOYOTA,VOLVO |
| ABS | DAEWOO, JAGUAR, LANDROVER, OPEL, RENAULT |
3.Full-system Diagnosis
Input the VIN and automatically recognize it, or manually select the vehicle model, type and year to start the quick scan for all the control units and get the inspection result with detailed DTC description.
Note: Indian and Malaysian cars
covered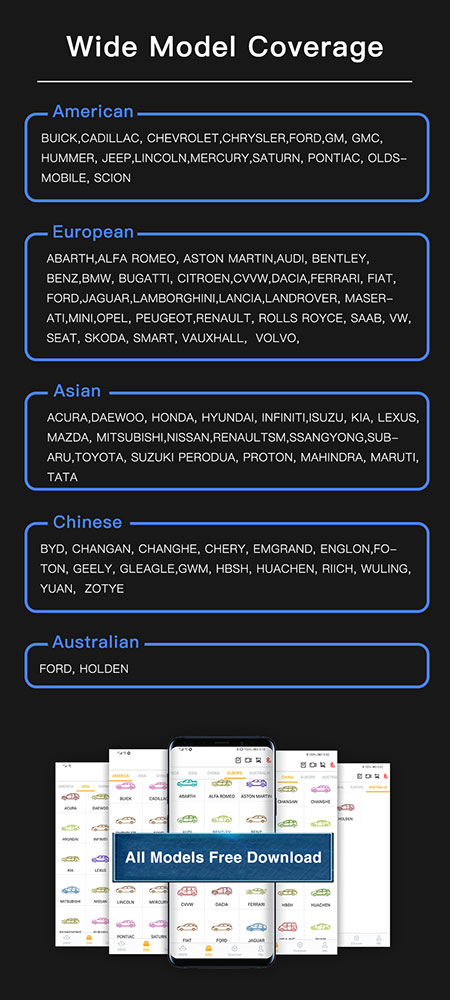 Package includes:
1pc x NEXZDAS ND406 Auto Diagnostic Tool
---
Protecting you from checkout to delivery.

If you are a buyer using Paypal right now, please check Paypal Buyer Protection and Paypal Returning Cost Refund regulations in advance.




---
Top 11 Reasons to Choose CarTool.co.uk

 

  1. Professional OBD2 Diagnostic Tools Supplier

  2. Market Oriented in UK and European Customers

  3. 8-Years Online Store

  4. Trustworthy Seller

  5. Technical Support Team

  6. Best Quality

  7. Competitive Price

  8. Fast Delivery (UK Warehouse, DHL,EMS,FedEx,TNT,UPS,AMX,YWEN)

  9. Oversea Safety Exporting Certificated

10. 1-Year Guarantee and After-Sale Service for Lifetime

11. Simple & Comfortable Return & Refund Policy
Our Aim at Offering You A Personal, Easy and Convenient Shopping Experience. Welcome to Purchase!
---
What is the meaning of the QC Mark?

Note: Each device from our company has a unique QC Mark formed by digital numbers.
1. The QC mark means the product has been passed our Quality Department Test.

2. The QC mark shows that the product is supplied from our company

3. The product with the QC mark will be our guarantee.
---
Contact Information

Live Support

E-Mail:Sales@carTool.co.uk

Skype:carTool.co.uk

Whatsapp: 86-199-4763-7411



Scan the QR code, feel free to contact us on your smart phone.