Product Description
ALLSCANNER VXDIAG Diagnostic Tool for BENZ,Wihout Software HDD,if you need software,pls buy additional HDD, item number VX11-S1.Benz software include two versions of PASSTHRU & PDU,including DAS,Xentry software.Version of PDU support new car models of 222,213,205 etc,other car models need to usepassthru version to diagnose. Not support old models of 210,203,220 with K-Line communication. It support connections of WIFI,LAN and USB.
Vxdiag Multidiag Diagnostic Tool
f
or Mercedes - Better than Mb Star C4 C5 C6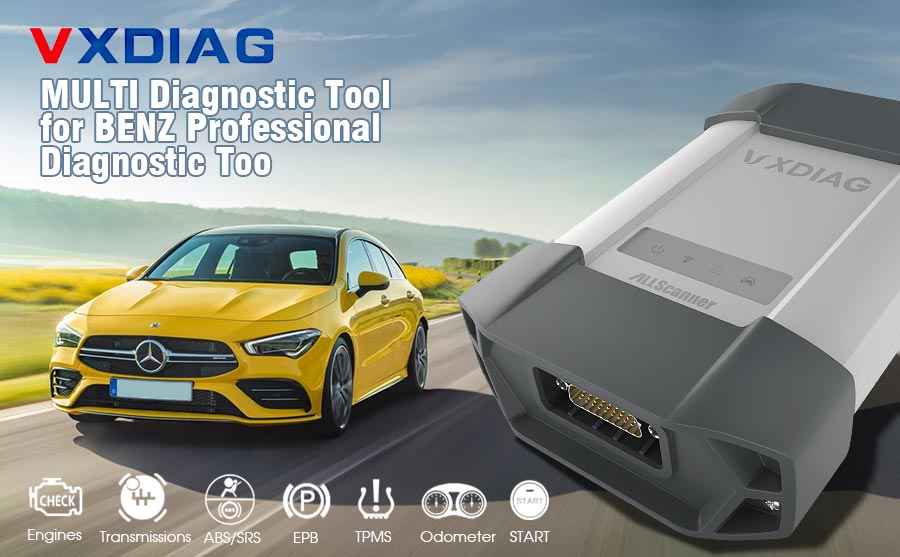 VXDIAG FOR XENTRY HAS THE SAME FUNCTIONS AS ORIGINAL DIAGNOSIS VCI.
IT IS CHEAP AND SUPPORT MORE CARS. IF YOU NEED OTHER CARS LICENSE, PLEASE CONTACT US.
Support Cars:
GM, Ford, Mazda, Toyota, Honda, LandRover, Jaguar, Subaru, Volvo, VW, Porsche
VXDIAG for XENTRY Diagnosis VCI is the latest interface for For Mercedes & SMART vehicles can replace Star C4/C5.
VXDIAG For XENTRY Diagnosis VCI acts as a Pass-through Interface, also called Star C6,
For Benz C6 multiplexer to provide complete communication between a vehicle and the VXDIAG For XENTRY software loaded on a PC.
VXDIAG For XENTRY Software Show:
Overview:
Compatible Software: VXDIAG For XENTRY/Das Software
Support Vehicle: Mercedes Benz & Smart vehicles
DoIP: Support
Functions: Star Diagnostic & programming (SCN Coding)
Features:
• can be used for all model series of For Mercedes For Benz vehicles
• supports DoIP, and has more functions during SCN Coding than SD C4/C5
• performs functions including diagnosing, programming, simulation studying, repair information, automotive maintenance, technical service bulletin and so on
• no longer update– firmware updates required on rare occasions
• does not need a power supply unit for external power supply
• comes with a small, sturdy construction (no PC core, battery, fan, or display)
• Engines (All Gasoline & Diesel Systems)
• Transmissions and Electronic Selector Modules
• Airmatic and Active Body Control Suspension Systems
• Traction Systems: ESP / ASR / ETS / ABS / BAS / SBC braking systems
• Supplementary Restraint Systems (SRS) / Airbag, All body modules OCP / UCP / LCP / SCM / SKF / KFB / RCM / DCM's
• Drive Authorisation System
• Sam (Signal Acquisition) Modules
• Electronic Ignition System (EIS)
• Pneumatic System Equipment and ATA functions
• Air Conditioning / climate control Systems
• Instrument Cluster
• Tyre Pressure Control
• Parktronic System
• Keyless Go
• D2b Command & Audio Gateway (D2B and MOST networks)
• TV Tuner
• Headlamp Range Adjustment
• Seat Electronics
• Rvc, RST & Vario Roof modules
• Automatic Clutch System ACS
• M-Class Body Modules (AAM / EAM / DAS / SEM / VG Transfer Case)
• Assyst & ASSYST + systems
Summary:
The new VXDIAG for XENTRY Diagnosis VCI (Vehicle Communication Interface) multiplexer serves as the interface to the vehicle when performing diagnosis and repairs,
and programming electric and electronic on-board vehicle systems.
The VCI does not have its own PC core, battery, fan, or display. It is operated using the VXDIAG For XENTRY Diagnosis Pad via WLAN or USB connection.
Notice :
1.Please install the 500GB HDD on laptop above 4GB Memory and I5 CPU, and use it on one laptop only.
If change laptop, software may get broken and need to ship HDD back to us to copy software again.
2.You also can watch more videos to get more technical support from official website: http://www.vxdiag.net
3.This VXDIAG can't support All Key Lost, needs one key at least.
PC Requirement:
Processor: Pentium 4 / 1.6GHz+
Memory: 1G Bytes or more
Hard disk: 40G or more
Display: Resolution 1024x768 or higher
Network interfaces: LAN 10 / 100M or 802.11b/g
Communication Interface: USB2.0 or USB3.0
Specification:
Item State
RAM 32bit180MHz ARM
FLASH 1MByte FALSH
Diagnostic Port 24PIN, self-determination design
LED 4 LED indicator light, indicate power and status.
Power DC 9V-36V
Consumption 3W
Working Temperature -20°C~70 °C
Storage Temperature -40°C~85 °C
Warranty: One Year
Package includes:
1pc x ALLSCANNER VXIDAG Main Unit
1pc x OBD cable
1pc x USB cable
1pc x Network cable
---
Protecting you from checkout to delivery.

If you are a buyer using Paypal right now, please check Paypal Buyer Protection and Paypal Returning Cost Refund regulations in advance.




---
Top 11 Reasons to Choose CarTool.co.uk

 

  1. Professional OBD2 Diagnostic Tools Supplier

  2. Market Oriented in UK and European Customers

  3. 8-Years Online Store

  4. Trustworthy Seller

  5. Technical Support Team

  6. Best Quality

  7. Competitive Price

  8. Fast Delivery (UK Warehouse, DHL,EMS,FedEx,TNT,UPS,AMX,YWEN)

  9. Oversea Safety Exporting Certificated

10. 1-Year Guarantee and After-Sale Service for Lifetime

11. Simple & Comfortable Return & Refund Policy
Our Aim at Offering You A Personal, Easy and Convenient Shopping Experience. Welcome to Purchase!
---
What is the meaning of the QC Mark?

Note: Each device from our company has a unique QC Mark formed by digital numbers.
1. The QC mark means the product has been passed our Quality Department Test.

2. The QC mark shows that the product is supplied from our company

3. The product with the QC mark will be our guarantee.
---
Contact Information

Live Support

E-Mail:Sales@carTool.co.uk

Skype:carTool.co.uk

Whatsapp: 86-199-4763-7411



Scan the QR code, feel free to contact us on your smart phone.