Product Description
CRP 429C is an evolutionary smart solution for passenger car diagnosis It inherits from LAUNCH's advanced diagnosing technology and is characterized by covering a wide range of vehicles, featuring powerful functions, and providing precise test result.
LAUNCH X431 CRP 429C OBD2 Code Reader Test Engine/ABS/Airbag/AT +11 Reset Function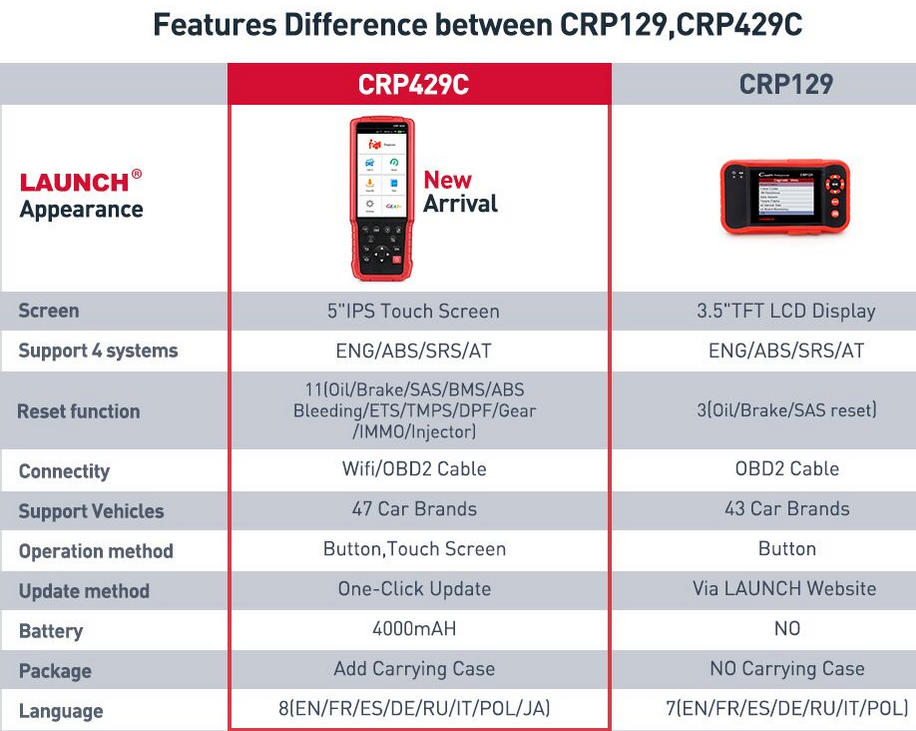 CRP 429C supports all 10 models of OBDII test for a complete diagnosis.CRP 429C also supports the system diagnosis of ABS.SRS, ENG and AT system, and supports 11 reset functions.
Multilingual Support: English, French, Spanish, Russian, Japanese, German, Italian, Portuguese.

Update: 1 year free update, after 1 year, it will cost 65USD.

LAUNCH X431 CRP 429C Functions and advantages:
Smart Auto-Detect Diagnosis: Once CRP 429C and the vehicle are properly connected, the system starts auto-detect process. Once the whole process is successfully finished, a diagnostic report will be automatically generated and sent to your email box (if bound).
Manual Diagnosis: If Auto-Detect failure occurs, manual diagnosis is also available. Diagnosis functions include: Version Information, Read DTCs ,Clear DTCs and Read Data Stream (supports 3 dispiay modes: Value, Graph and Merged).
OBDII/EOBD_ Diagnosis: 10 modes of OBD II test are supported, including EVAP. O2 Sensor, l/M Readiness, MIL Status, VIN Info. and On-board monitors testing etc.
Remote_ Diagnosis_ (optional): This option aims to help repair shops or technicians launch instant messaging and remote diagnosis, making there pair job getting fixed faster.
Reset: Frequently used maintenance and reset items including Oil Lamp Reset, Brake Pad Reset, TPMS Reset, Battery Matching, Injector Programming, Throttle Adaptation, DPF Reset, Gear Learning, Steering Angle Reset, ABS Brake Bleeding and Anti-Theft Matching can be done.
One-click Update: Let you update your diagnostic software and APK online.Diagnostic_ History: This function provides a quick access to the tested vehicles and users can choose to view the test report or resume from the last operation, without the necessity of starting from scratch.
Diagnostic Feedback: Use this option to submit the vehicle issue to us for analysis and troubleshooting
DTC_ Library: Allows you to retrieve the definition of the diagnostic trouble code from the abundant DTC database.Displays battery real-time voltage once properly connected to the vehicle Features screenshot capture. Screen shots and reports sharing are supported.Touch & Keypad input are supported. Quick Dial buttons enables you to easily access the corresponding functions.
LAUNCH X431 CRP 429C Supported Brands:
For Demo,for ACURA,for Alfa Romeo, for Audi,for BMW,for BUGATTI,for Chrysler,
For Citroen,for DACIA, for Daewoo, for Euroford, for Fiat, for Ford, for Mitsubishi, for Nissan, for Opel,for Peugeot, for Porsche , for Renault,for SAAB,for SAMSUNG,for Seat
For Skoda,for Smart, for Sprinter, for Subaru, for Suzuki,for Tlisuzu,for SAAB,for SAMSUNG for Toyota, for Vauxhall,for Volvo,for VW,for GM,for Gmsa,for Honda, for Hyundai, for Infiniti,for Isuzu, for Jaguar,for Kia,for Lancia,for Landrover,for Lexus, for Lincoln, for Mazda, for Mercedes , for Mini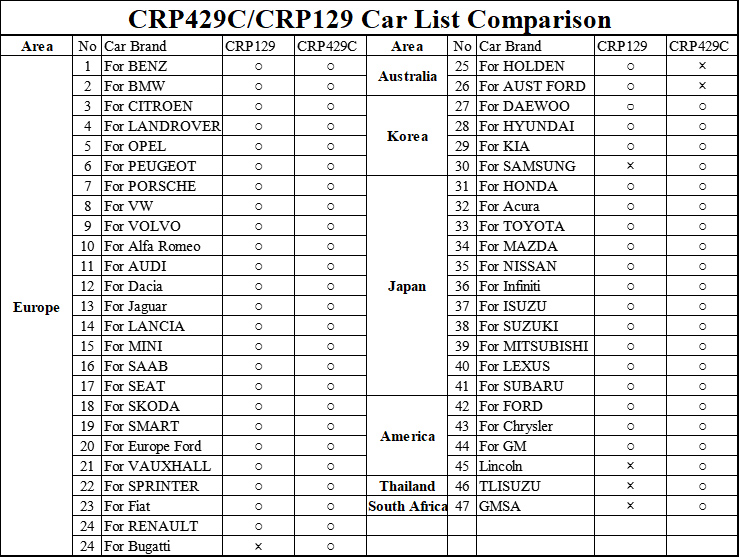 Technical Parameters:

Operating System: Android 7.0
Processor: Cortex-A5 processor (1.5 GHz)
RAM: 1GB
ROM: 8GB
Display: 5 inch IPS touch screen
Connectivity: Mini USB 2.0
USB 2.0
Wi-Fi
Micro SD card (supports up to 32GB)
Power and Battery: 4000 mAh lithium-polymer battery
Built-in Lithium Battery: 4000mAh
Ambient: -20ºC ~ 70ºC (storage); -10ºC ~ 50ºC (working)
Product Size: 248.7x93.5x36(mm)
Product Net Weight: 530g
Package includes:
1pc x Main Unit
1pc x OBDII Diagnostic Cable
1pc x DC 5V Charging Cable
1pc x User's Manual
1pc x Padded Carry Case
---
Protecting you from checkout to delivery.
If you are a buyer using Paypal right now, please check Paypal Buyer Protection and Paypal Returning Cost Refund regulations in advance.


---
Top 11 Reasons to Choose CarTool.co.uk

1. Professional OBD2 Diagnostic Tools Supplier
2. Market Oriented in UK and European Customers
3. 8-Years Online Store
4. Trustworthy Seller
5. Technical Support Team
6. Best Quality
7. Competitive Price
8. Fast Delivery (DHL,EMS,FedEx,TNT,UPS,AMX,YWEN)
9. Oversea Safety Exporting Certificated
10. 1-Year Guarantee and After-Sale Service for Lifetime
11. Simple & Comfortable Return & Refund Policy
Our Aim at Offering You A Personal, Easy and Convenient Shopping Experience. Welcome to Purchase!
---
What is the meaning of the QC Mark?
Note: Each device from our company has a unique QC Mark formed by digital numbers.
1. The QC mark means the product has been passed our Quality Department Test.
2. The QC mark shows that the product is supplied from our company
3. The product with the QC mark will be our guarantee.
---
Fast Free Shipping and Cost-Effective

---
Contact Information

Live Support
E-Mail:Sales@carTool.co.uk
Skype:carTool.co.uk
Whatsapp: 86-199-4763-7411


carTool.co.uk QRcode:
http://www.carTool.co.uk & http://m.carTool.co.uk

Scan the QRcode, feel free to contact us on your smartphone.